Regular price
Sale price
€59,90
Unit price
per
Sale
Sold out
Description
SEMIFRIA CHEESE CAKE CAKE

One of our signature Cakes, one of the most preferred worldwide but in the Healthy style. Our cold vegan cheese cake with homemade red fruit jam is a real wonder! If you have always wanted to be able to enjoy your favorite cake and repeat as many times as you want without feeling guilty, now IT IS POSSIBLE!

Celebrate your special occasion (birthday, anniversary ...) or be the perfect host or guest surprising with a cake to enjoy GUILT FREE.



Ingredients
Natural red fruits, homemade red fruit jam without sugars, coconut oil, walnut, almond, cashew nuts, dates and vanilla.
Allergens
Vegan, does not contain milk or eggs, does not contain sugar or sweeteners and is gluten free. It is suitable for celiacs.
None of our products contain soy, gluten or animal products. All of our products are made in facilities that process nuts and berries.
Conservation
Our cakes must always remain refrigerated ❄️ to maintain their texture and firmness. Take it out of the freezer to the fridge 2 hours before consuming and out of the fridge half an hour before consuming. They stay fresh in the freezer for up to 1 week.
Information
Please note that we use natural and seasonal foods to decorate our cakes, therefore the final result of the cake decorations may vary.
There is the possibility of customizing the cakes either in size, decoration or in the content of any of their ingredients.
key ingredients

base: almendra, nueces, dátiles
relleno: crema de "queso vegano" con coco y anacardos
decoracion: mermelada casera de frutos rojos sin azúcares y frutos rojos naturales
alérgenos

bizcocho de zanahoria vegano, no lleva huevo ni leche, sin azúcar ni edulcorantes y libre de gluten. ninguno de nuestros productos contienen soja, gluten, huevos ni lácteos. todos nuestros productos se elaboran en instalaciones que procesan frutos secos y cacahuetes
conservación

conservar en refrigeración (nevera o congelador dependiendo cuando se vaya a consumir)

guardar en congelador y pasarla a nevera 2h antes de servir. a ser posible sacar 20min antes de servir de la nevera


información

por favor tenga en cuenta que todos los productos están elaboramos a mano de forma artesanal, por ello el tamaño y la forma de cada uno podría variar al igual que el resultado final de las decoraciones.
shipping

existen tres opciones de envío:

recogida en tienda para todos los productos

entrega local a través de la web y delivery apps (uber eats y glovo) para todos los productos excepto las tartas de cumpleaños

envío nacional a toda españa, portugal y andorra. para ver la selección de estos productos accede al apartado de envío nacional
View full details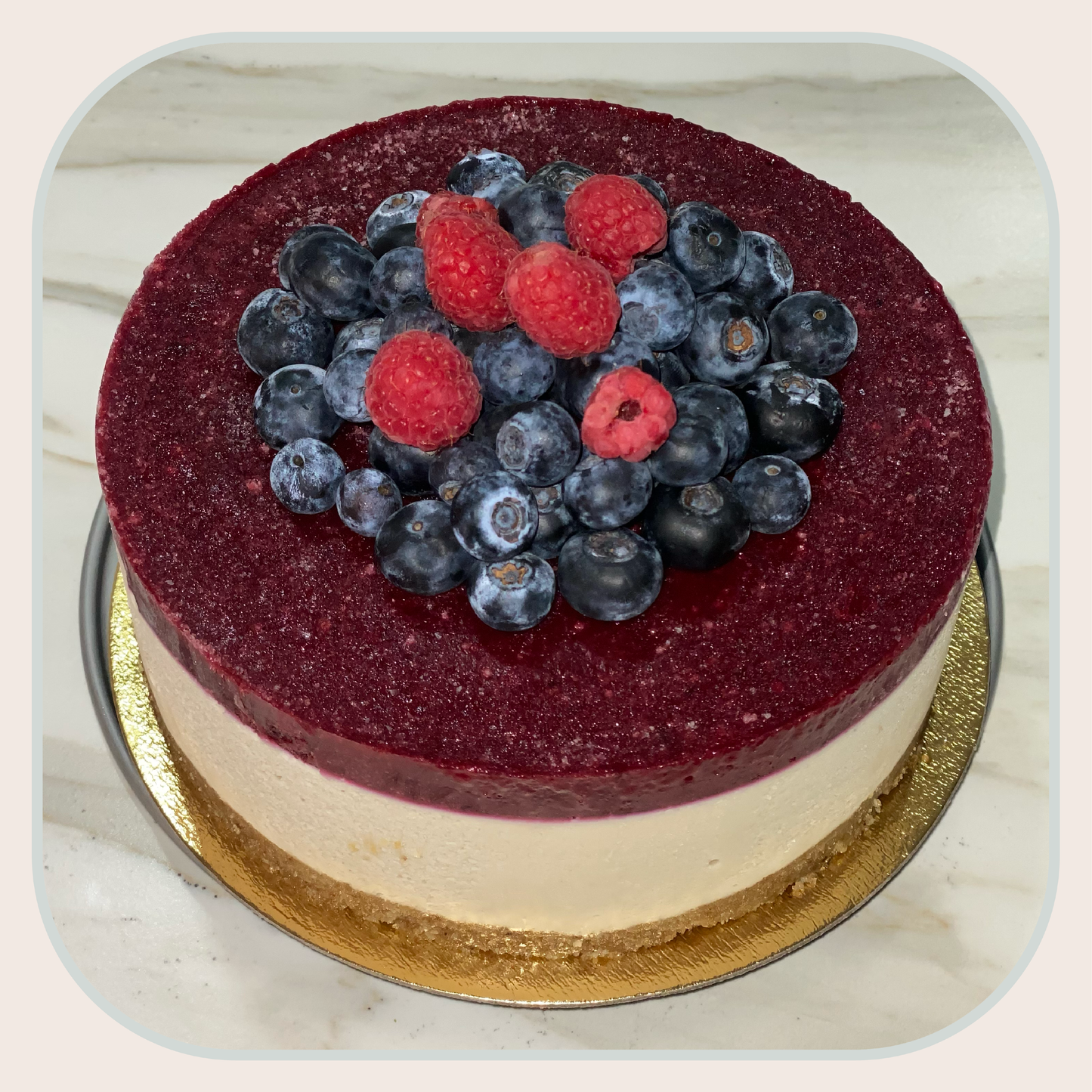 Deliciosa
De las mejores Cheesecake que he probado. Se nota que es casera y los ingredientes son de muy buena calidad. Para mi gusto lo mejor que tiene es la mermelada casera de frutos del bosque sin azucares. Para ser vegana esta muy conseguida, nadie lo diría!