Regular price
Sale price
€7,90
Unit price
per
Sale
Sold out
Description
Chocolate Donuts & amp; Rainbow

Our Donuts are made by hand in small quantities in our bakery. Using the best quality ingredients to make these donuts tasty and super healthy.

Tip: Accompany them with a coffee with the plant-based milk that you like the most (almonds, oatmeal, coconut, etc.) or a Matcha green tea for breakfast, snack or as a snack. They are ideal at any time



Ingredients

Almond, Buckwheat, Oats, Organic coconut oil, Pumpkin and sweetened with natural dates.

Coverage: Chocolate 73% cocoa, Matcha, Beet and Blue Spirulina.

Toppings: Pistachios, Almonds, Hazelnuts, Grated Coconut, Freeze-dried Raspberries.


They are Vegan, do not contain milk or eggs, do not contain sugars or sweeteners and are gluten free, they are suitable for coeliacs.



Allergens

None of our products contain soy, gluten or animal products. All our products are made in facilities that process nuts and red fruits.



Conservation

This dessert is made with natural organic ingredients based on plants 🌱, without dairy or eggs 🥛🥚. Thanks to this, it can be kept well covered up to 15 days in a cool place without humidity (20-22 ° C), or up to 20 days in refrigeration ❄️



Information

We have four flavors: Cholate, Beetroot, Matcha and Blue Spirulina!

Please note that all donuts are made by hand in an artisanal way, therefore the size and shape may vary , since each one is unique. Therefore, the final result of the decorations may vary.
key ingredients

donut: almendra, trigo sarraceno sin gluten, avena sin gluten, coco, calabaza y dátil.
cobertura: chocolate, matcha, remolacha o espirulina azul.
topping: pistachos, almendras, avellanas, coco rallado, nibs de cacao, frambuesas liofilizadas, fresas liofilizadas.
*nuestros donuts están horneados NO fritos.
alérgenos

este producto es vegano, sin azúcar y sin gluten. no contiene soja, huevo, lácteos o productos provenientes de los animales. todos nuestros productos se elaboran en instalaciones que procesan frutos secos y cacahuetes.
conservación

al realizar nuestros productos diariamente en nuestro obrador, recomendamos que se consuman el mismo día que se reciben para garantizar su frescura máxima.

si prefieres consumirlo en varios días:
todos nuestros productos dulces están elaborados con ingredientes orgánicos naturales a base de plantas, sin lácteos ni huevo, gracias a esto, se puede conservar bien tapado en un tupper hermético en un lugar fresco y sin humedad (20-22°C)

- productos con fruta natural o crema de coco: 7 días.
- todos los demás: 30 días
- minicakes y tortuguitas conservar en el congelador

una vez recibido el producto no nos hacemos responsables de su conservación.
información

por favor tenga en cuenta que todos los productos están elaboramos a mano de forma artesanal, por ello el tamaño y la forma de cada uno podría variar al igual que el resultado final de las decoraciones.
shipping

existen tres opciones de envío:

recogida en tienda para todos los productos

entrega local a través de la web y delivery apps (uber eats y glovo) para todos los productos excepto las tartas de cumpleaños

envío nacional a toda españa, portugal y andorra. para ver la selección de estos productos accede al apartado de envío nacional
View full details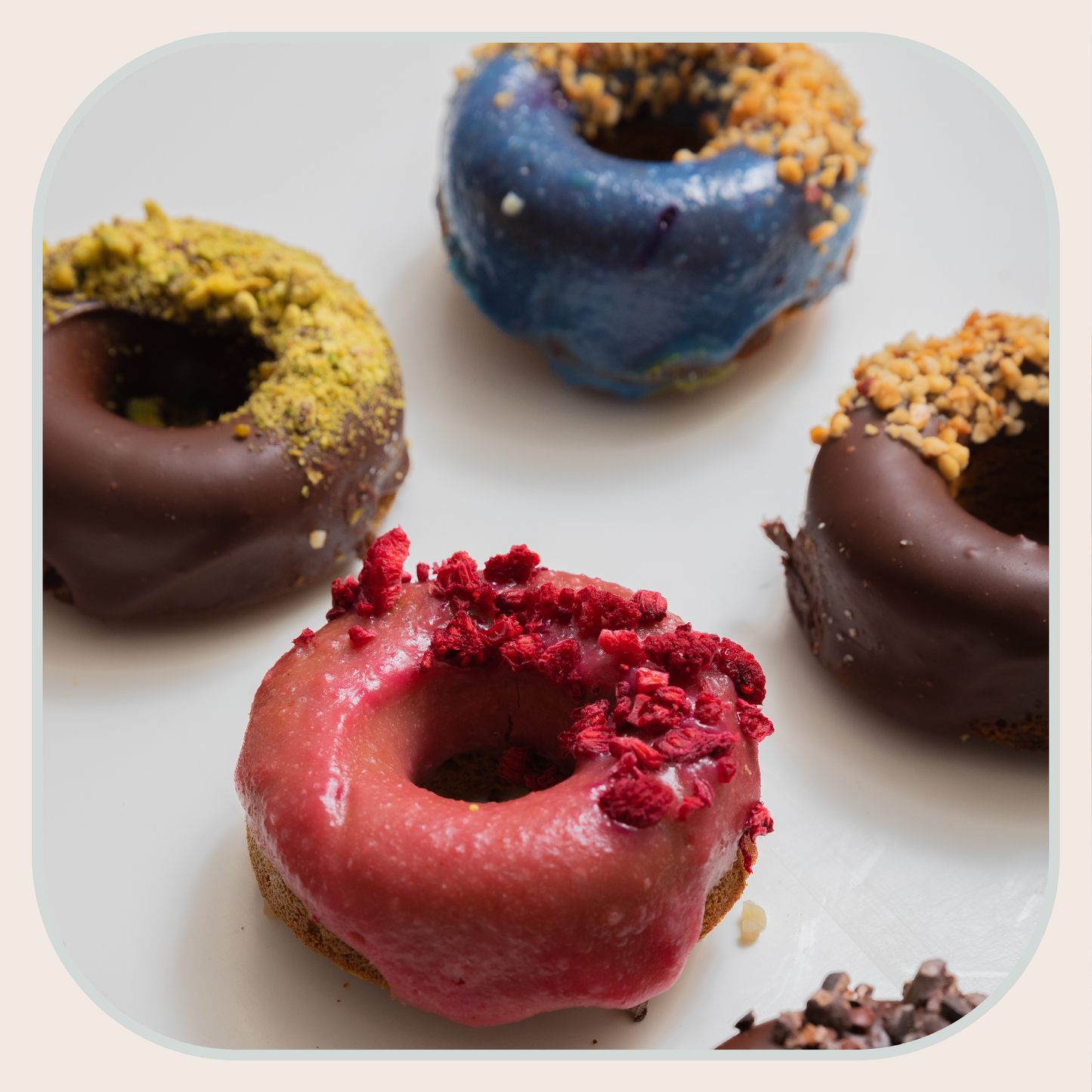 Pedido Posdata
El pedido fue genial, encantadoras poniendo un alfajor de regalo. Todo riquísimo!!!
Buenísimos y súper saludables
Me gustaron mucho, los donuts tienen un sabor muy agradable y natural, están dulces en su justa medida, se nota que son artesanales y hechos con cariño.
Muy top
Deliciosos. Mi favorito el de chocolate con cobertura roja y la de coco. Sin duda pienso ir probando más productos hasta disfrutar de todos!
Rico
Súper buenos estoy deseando volver a pedir